Carbon/Carbon Composite
Whichever material is used for CZ growing Si-single crystals, it operates at high temperatures, at around 1600℃ in an aggressive environment. To meet these critical conditions, the high-temperature zone ("hot zone") in the furnace consists almost entirely of heat and corrosion-resistant graphite components.
KORCARB produces all graphite and Carbon-Carbon Composite(CCM) components for crystal growing units.
These include heaters, crucibles, reflectors, and heat shields made from carbon fiber-reinforced carbon, as well as insulating components produced from graphite fiber web. We meet customer requirements for purity and mechanical/physical properties.
To extend the service life of highly stressed components, we supply special SiC coating services.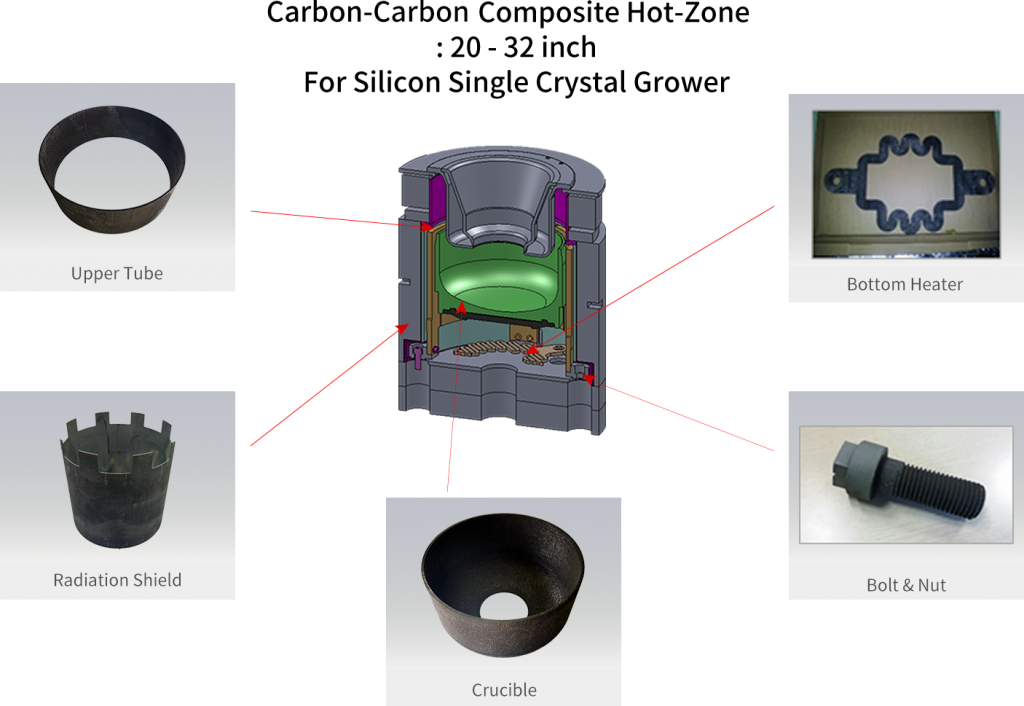 We developed our own technology "thermal gradient chemical vapor deposition" for fast densification of carbon preform.
We can meet for Hot-Zone components for CZ Si-Growing furnace.
-Physical properties
| | Unit | value |
| --- | --- | --- |
| Bulk density | g/cc | 1.3 – 1.7 |
| Tensile strength | Mpa | 120 – 150 |
| Flexural Strength | Mpa | 170 – 200 |
| Thermal Conductivity | W/mK | 5 – 10 |
| C.T.E | μm/K | 1 – 2 |
| Impurity | ppm | 1 – 100 |
-Dimension : Max. Diameter 1500mm x Height 2000 mm